Volunteer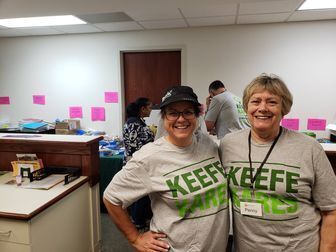 Volunteers are integral to our organization! We are all volunteer driven and there is a LOT to be done!
Help us do what we do best, provide food and diapers for those who need it. 
Please complete the application below and we will get back to you as soon as we are able to.
Thank you for caring for those in need!
We really need people who can unload trucks and load groceries into cars. 
Please know that all volunteers and staff working at the food and diaper bank are required to be vaccinated against Covid 19 with appropriate booster shots.
Here's our Volunteer Handbook.
Wednesday Diaper Distribution

Wednesdays 10 am -noon. Greet guests who come for diapers and formula, distribute items and input information into Food bank Manager.

Grocery Bag/Cart Handling

Must be able to lift 25 pounds and capable of loading groceries from cart into guest's cars.

Sorting and Repacking Food for Distribution

Food Distribution

Working in the back to move food from warehouse out to cars. Friday Afternoons and/or Saturday mornings.

Fresh Market Workers

Set Up Produce Market Friday Morning and/or Saturday Morning

Maintenance and Cleaning

Join a cleaning team to help us keep the pantry sparkling clean!
If you have any special gifts as a maintenance person, let us know!

Logistics/Traffic Flow

Help keep cars moving in parking lot on distribution days, Friday afternoons and Saturday mornings.

Ambassador

Be our voice in the community! If you are ready to learn more about our mission and vision and are interested in attending public events to share our story, let us know and you will be included in the next training event to become an Ambassador.